Step 1: Meal Prep


Three meals daily: Super Veggie and Nutty Pudding, and a third that varies and consists of vegetables, nuts, seeds, and berries. Each has been methodically crafted based on gold standard scientific evidence for optimal nutrition. They continue to be modified at the introduction of new evidence.


(yes, it's free)



A DAY'S WORTH OF FOOD:

Note: discontinued Green Giant 10/23
More of a reorganization of what goes where.
Amino acids are discontinued. Protein intake is adequate.
Added spermidine (that was in the chlorella powder) to pills.
Cocoa flavanols are in Nutty Pudding

I continue to take 25 g of collagen peptides and 2.5 g of creatine daily. Can add the collagen peptides to Nutty Pudding as is tasteless and adds a fun texture.
We've dramatically simplified the Blueprint stack so you don't have to chase around all of details. Launch ETA is January 2024.


---
Super Veggie
Black lentils, 45 grams dry, ~150 grams cooked

Broccoli (head+stalk), 250 grams

Cauliflower. 150 grams
Shiitake or Maitake Mushrooms, 50 grams

Garlic, 1 clove (a piece)

Ginger Root, 3 grams

Lime, 1

Cumin, 1 Tbsp
Apple Cider Vinegar, 1 Tbsp

Hemp Seeds, 1 Tbsp
After prep, drizzle 1 Tbsp of Extra Virgin Olive Oil
Recently been sprinkling 1 Tbsp of
100% dark chocolate
to dish
(All organic)
Super Veggie Preparation instructions
Weigh vegetables. Place broccoli, cauliflower, mushrooms (maitake or shiitake), ginger and garlic in boiling water*. Boil until tender (7-9 min). Steaming is also acceptable.
Lentils: bring the water to boil in a medium saucepan. Add lentils. Reduce heat to low and cook uncovered for 18-20 or minutes until "al dente". Place in a colander to drain and rinse under cold water

You can choose to blend or keep whole pieces.
Blend in a high-speed blender place 1 Tbsp of dried cumin, 1 Tbsp of apple cider vinegar, 1 fresh Lime, cooked black lentils, the strained cooked vegetables, and blend until it becomes thick soup. Can also serve as the picture above.
If needed add some of the vegetable water (or steaming water) to thin out the texture.
Top with hemp seeds.
Prepared correctly, taste should be an easy and smooth tasting veggie hummus. No smell/taste of garlic.
I season it with
NuSalt
(potassium chloride).
*Cooked via low temperature, high humidity, high acidity, high antioxidant cooking methods to minimize formation of Advanced Glycation End-products (AGEs) and Advanced Lipid Peroxidation End-products (ALEs).
A note on Super Veggie taste. The food I eat is delicious to me; one of the most exciting moments of my day. Both my teenage boys, mother, father, and brother eat the same foods daily and they love them too. When starting, sometimes there is a period of adaptation and some want to play with the recipe and texture.
Blueprint breaks all kinds of social norms which predictably triggers human responses that draw those lines. My favorite: my 16 yr old eats Super Veggie for school lunch. His friend offering his observations 😂
Super Veggie ready to serve
Super Veggie hummus w/ olive oil & chocolate...
---
Nutty Pudding Preparation instructions
Add 50-100 mL milk nut based upon desired consistency.
Add walnuts, macadamia nuts, ground flax seeds (highest nutritional value to buy seeds and grind)
Add cocoa, sunflower lecithin, cinnamon
Add 3 cherries, 1/2 cup of berries (save half for topping) & pomegranate juice
Mix on high for 3 or 4 minutes
Pour into a dish.
Add the rest of the berries
Typically will also add 30-60 grams of pea protein
If you want to go wild, you can add a Tbsp of sweetener Trehalose and a Tbsp of Manuka honey.
---
Example Third Meals

Asparagus Almond Beet Salad, 500 cal
Beets 500 grams cooked
Asparagus 300 grams cooked
Almonds Slivers 21 grams
Arugula 1 cup
Shallot 1 large
Balsamic 3 Tablespoons
Dijon 3 Tablespoons
Mustard Seeds 1 Tablespoons


Asparagus Almond Beet Salad Preparation Instructions
Trim and clean beets. Boil in water till the beets can be easily pierced with a fork. Drain and while still warm, the skin will rub off easily underwater. Set aside the skinless beets in a bowl.

Blanch Asparagus - Set aside a bowl of ice water. Heat a large saucepan of water till boiling. Add Asparagus to the boiling water for 4 minutes. It may be shorter or larger boiling times depending on the size of the stalks. Once asparagus is firm but not crisp, remove it from boiling water and dump it into the ice bath. Once asparagus is cool. Drain and take a paper towel to blot any excess water away.

In another heated pan, add the mustard seeds to a dry pan for one minute. After one minute add sliced shallots and one-fourth cup of water. Cook shallots and mustard seeds down until the shallots are transparent. Add more water if needed.

In a small bowl add the balsamic and the dijon and blend well.

Once everything is assembled and cooled to room temperature. Chop the beets and asparagus into small bite-sized pieces. Add the cooled shallots mixture. Add in chopped arugula and toss lightly. Once lightly tossed pour dressing over and toss lightly again. Top the salad with slivered almond
Orange Fennel Salad, 500 calories
Cara Cara Orange 1 segmented orange
Fennel ¼ cup shredded
Goji Berries 30 grams
Pecans 30 grams
Grape Tomatoes 14
Spring Mix 3 cups
Arugula Leaf or Sprouts 1 cup
Fresh Mint ¼ cup
Fig Balsamic Vinegar 2 Tablespoon
Orange Fennel Salad Preparation Instructions
Gather ingredients. Segment the orange. Shred the fennel on a grater. Toss in greens, torn mint leaves, fennel, grape tomatoes, top with chopped pecans, and goji berries. Right before serving add fig balsamic dressing.
Stuffed Sweet Potato, 500 calories
Sweet Potato 300 grams cooked
Chickpeas 45 grams cooked
Grape Tomatoes 12
Avocado ½
Radishes 4
Cilantro ¼ cup
Jalapeno Pepper 1 large
Limes 2 whole
Lemon 1 whole
Chile Powder 1 Teaspoon
Stuffed Sweet Potato Preparation Instructions
Roast the sweet potato until you can puncture it with a fork. While the potato is roasting, place chickpeas in a bowl. Add the juice of half of a lemon and the chile powder and set aside to marinate.

On a sheet pan, roast the grape tomatoes until they have popped and have a bit of color.
Add to a small bowl the avocado mash with the juice of one lime and half of a lemon. Stir until creamy.
Thinly slice the radishes and the jalapeno pepper.

Once everything is roasted. Build your dish. Start with the potato, slice open. Remove skin if preferred. Pour the chickpea mixture over the sweet potato, next add roasted grape tomatoes and some jalapenos. Top with avocado mixture, chopped fresh cilantro, radishes, and the remainder of jalapeno peppers. Serve with sliced lime on the side.

Extra Virgin Olive Oil
Highest Quality EVOO Criteria (
Blueprint EVOO
)


Fun fact: on Blueprint, you'll eat over 70+ lbs of veggies, berries and nuts per month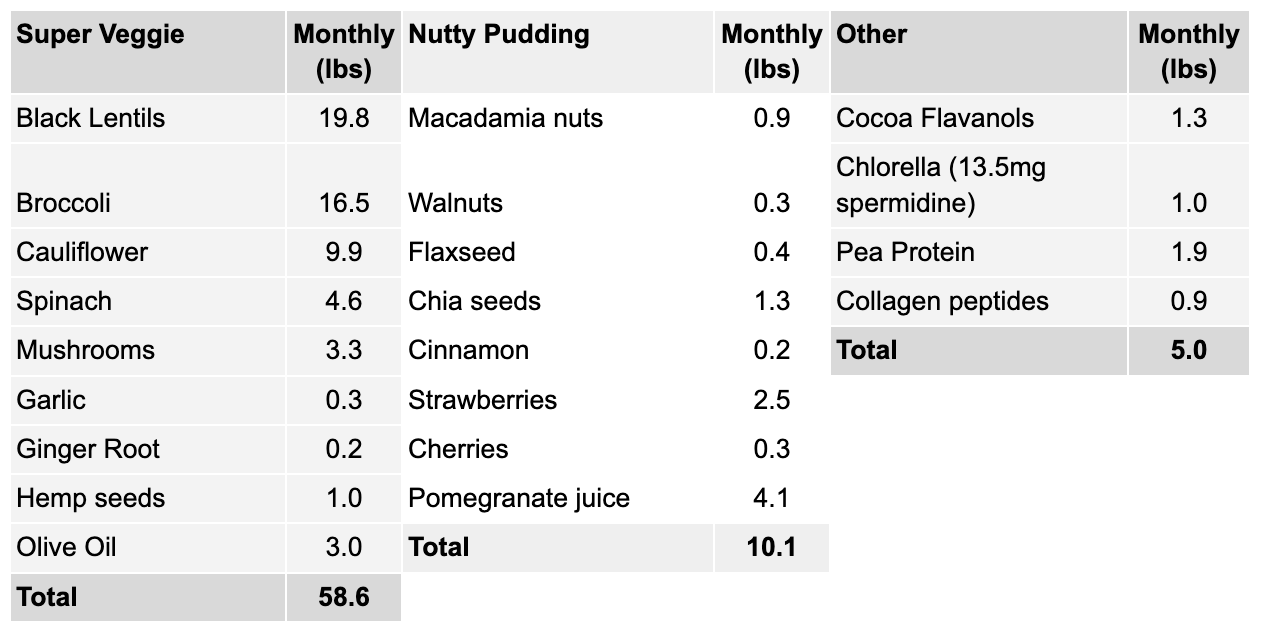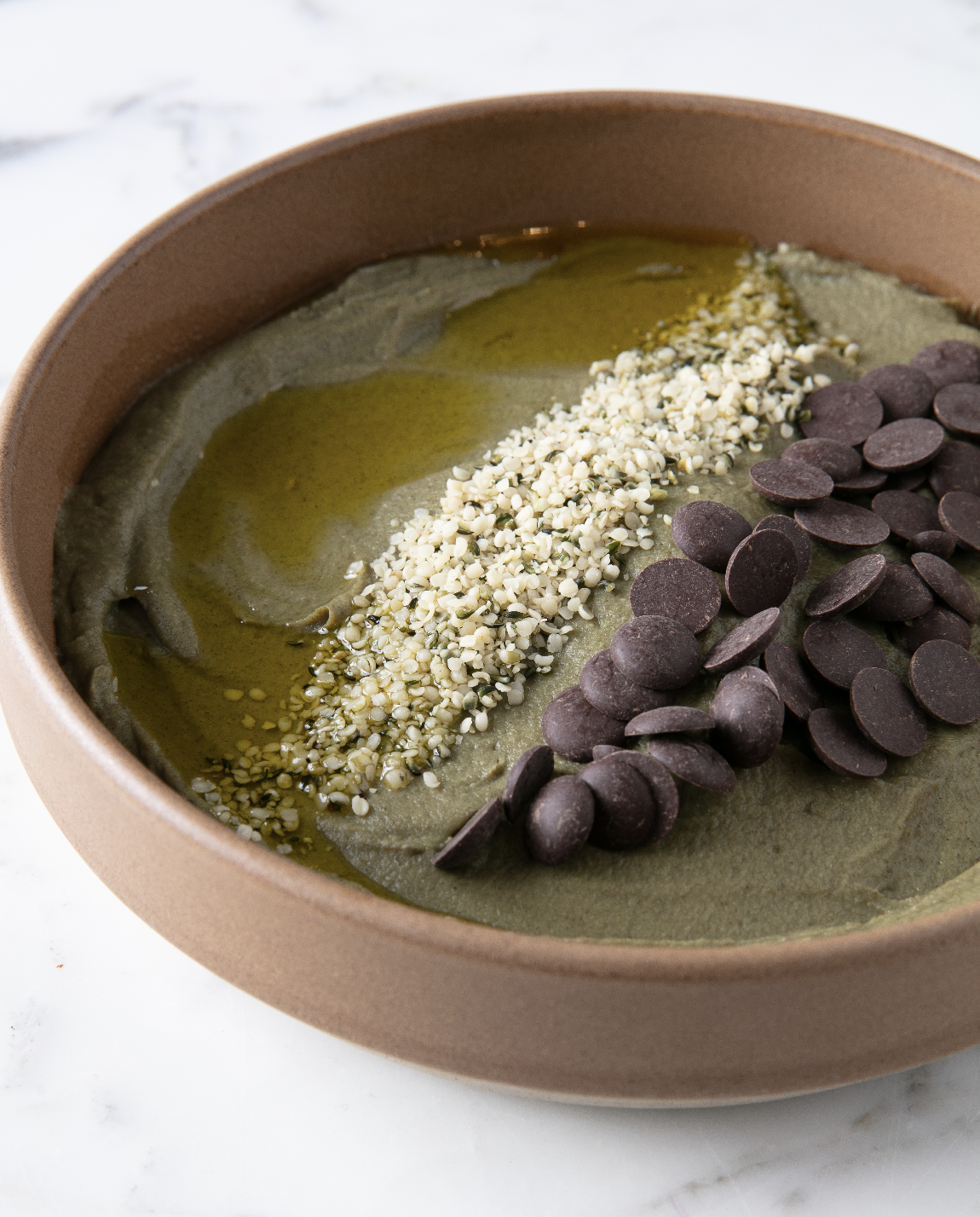 ---
Step 2: Supplements
Note: this protocol is based upon regular measurements. Optimal protocol for you may differ.
How I organize them
.
Step 3: Track progress

Basic blood panel
Cystatin C
Complete blood count with differential, RDW, WBC, MCV
BUN
Creatinine
HbA1c
IGF-1
venous glucose
lipid panel
total protein
albumin
liver panel
thyroid panel
hsCRP
Vitamin A serum, B1 serum, B2 serum, B3 serum, B6 serum, B7 serum, B9 serum, B12 serum, C serum, D serum, alpha tocopherol serum, PIVKA-II/a.k.a. DCP (vitamin K deficiency) serum, CoQ10 serum

Calcium serum, chloride serum, chromium serum, copper plasma, magnesium serum, manganese plasma, phosphate serum, potassium RBC, selenium plasma/serum, zinc serum/plasma
DHEA-S
Testosterone
Estrogen
SHBG

Urine
Iodine
Iodine to creatinine ratio
albumin to creatinine ratio
https://rejuvenationolympics.com/
This work is licensed under a
Attribution-NonCommercial 4.0 International
| Consult your doctor for what's right for you.
Medical disclaimer
This website, including any experimental results presented, is for informational purposes only and does not constitute medical advice or professional services. The information provided should not be used for diagnosing or treating a health problem or disease. Individuals seeking medical advice should consult with a licensed physician.
Biological age measurements and claims
Any claims regarding the measurement or reversal of biological age are preliminary and can be influenced by various biostatistical errors, including statistical variation, reference range relevancy, and clinical outcome significance. Ongoing, formal peer-reviewed studies are essential for validating these biological age tests for FDA approval (or its international equivalent) and confirming any clinically relevant changes in biological age. The data presented reflect our team's rigorous efforts to adhere to current scientific and biostatistical standards, while formal peer-reviewed validation studies are underway. Please note: These tests are experimental and intended solely for research purposes. They should not replace or supplement any clinical tests recommended by licensed medical professionals."
Context
The protocol presented on this website is based on scientific research, ranging from mouse studies to meta-analyses of randomized controlled trials and international clinical practice guidelines. These have been carefully reviewed for their unique relevance to my personal situation. The protocol encompasses a mix of on-label, off-label, and unlicensed therapies, as well as research-use-only tests. Some of these tests and therapies are still under scientific investigation and have not yet received on-label licensing for specific health conditions. All tests and therapies, regardless of their licensing status, carry risks. These risks have been assessed for my personal use by a specialized team of clinicians and scientists. This protocol represents an experimental clinical research project. Results will be periodically published in peer-reviewed journals, adhering to international quality standards relevant to various types of clinical studies, including case reports, randomised controlled trials, and systematic reviews. Case reports, case series, and systematic reviews are important components of evidence-based medicine, helping inform the design of gold-standard randomised controlled trials and guiding clinical practice.
Rx
The use of Prescription only Medicines (PoMs) such as HGH, acarbose, rapamycin, metformin, thyroxine, testosterone, statins, phenylbutyric acid, tadalafil and others discussed in this protocol should not be considered an endorsement or promotion of these products. PoMs should only be prescribed by a licensed doctor who has assessed that the benefits and risks are acceptable for the individual and acquired through licensed pharmacies in a jurisdictionally legal manner. The prescribing doctor should be made aware of all other PoMs being taken and other relevant interventions such as foods, supplements and medical history to enable accurate assessment for safe prescribing and monitoring of combination interventions.
This web site is provided for educational and informational purposes only and does not constitute providing medical advice or professional services. The information provided should not be used for diagnosing or treating a health problem or disease, and those seeking personal medical advice should consult with a licensed physician.